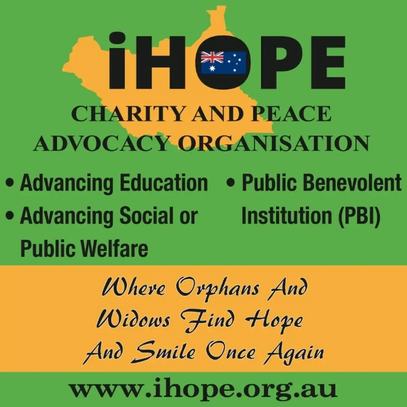 Integrated Help and Opportunities for Peaceful Existence (iHOPE) Inc: Inspiring the Invisible Giants through Scholarship and Vocational Training in South Sudan
Integrated Help and Opportunities for Peaceful Existence (iHOPE) Inc: Inspiring the Invisible Giants through Scholarship and Vocational Training in South Sudan
Integrated Help and Opportunities for Peaceful Existence (iHOPE) Inc: Inspiring the Invisible Giants, Restoring Hope and Self-Reliance through Scholarship and Vocational Training for South Sudanese Orphans, Widows, and Disabled in and Outside South Sudan
By Deng Garang Bul, Darwin, Australia
Tuesday, 06 September 2022 (PW) — Recurring civil wars have created a humanitarian crisis for the financially disadvantaged families and individuals, including orphans, widows, widowers, and the disabled, who are related through family links to South Sudanese Australians. These people are looking to us in Australia and elsewhere in the Western world for assistance, and we must not fail to respond to their needs.
Consequently, the South Sudanese community here is investing immense amounts of their income to ensure that their relatives overseas can attend school and pay their rent and medical fees. It is a sacrifice for the South Sudanese community in Australia, often causing financial hardship. This paper examines the role of the integrated Help and Opportunities for Peaceful Existence—iHOPE Inc.—in providing hope for a brighter future for families overseas and here in Australia.
iHOPE Inc. provides charitable work in education by advancing education through scholarships to orphans and the underprivileged. iHOPE Inc also participates and collaborates with other relief agencies in South Sudan in the provision of emergency aid, primarily with the United Nations International Children's Emergency Fund (UNICEF).
Furthermore, if funds permit, iHOPE Inc. will build classrooms and provide public or social welfare assistance. Funds are being raised by the South Sudanese community in Australia, while widows and widowers are being relieved of financial worries in South Sudan. As a result of education for children, new thinking of nationalism, as opposed to tribalism, is emerging among the South Sudanese. iHOPE's overall aim is to restore hope and build self-reliance.
Our intention is to work with families and individuals to help them return to the positive elements of their pre-crisis situations. This is not easy, because often, the provider-receiver dynamic is either misunderstood or intentionally abused.  Unlike other relief agencies, iHOPE's priority is to foster change within individuals. We do not want our service to be dependence-creating.
It is imperative that the provision of relief to alleviate poverty does not exacerbate the feeling of helplessness and inferiority that always accompanies most relief work. Because by the time an NGO is gone, both individuals and families are disempowered. Inasmuch as we are affirming individual dignity, we are also contributing to the process of overcoming their poverty of being.
We at iHOPE Inc believe that education scholarships can alleviate poverty because education is an empowering process that motivates people to utilise their possibilities and to see their potential.  The assumption that relief agencies have all the best ideas is a myth that has failed to solve the poverty problem.  The materially poor do not need us to think for them about the best ways to start a business and plant crops.
We at iHOPE Inc understand that development cannot be done on or for people but with the people. Through working with individuals and families, we consider the factors at play. That is, what caused or is causing the crisis? Can the family resolve their financial difficulty? Can they rid themselves of the nasty problem in the long term? Is the family culpable?
We address the above questions through a robust assessment of the individual's willingness to address larger issues or factors that have contributed to their situation in the first place. By ensuring the participation of the affected in the assessment, design, implementation, monitoring, and evaluation of their needs, we are giving them a sense of responsibility and ownership. By working together, we can inspire the invisible giants of our country.
Please join us in giving the orphans and widows a reason to smile once more. Visit our website, www.ihope.org.au to see our projects; print this letter on your local paper, or website; or organise media interviews or speaking opportunities at your church, school, business, or network group.
The author, Deng Garang Bul, is the President and CEO of iHOPE Charity. Deng Garang is a biotechnologist and public health researcher and is currently pursuing a master's degree in psychology. He can be reached via his email: info@ihope.org.au, deng.bul@outlook.com.au, or Mobile: +61400211966.
The opinion expressed here is solely the view of the writer. The veracity of any claim made is the responsibility of the author, not the PaanLuel Wël Media (PW) website. If you want to submit an opinion article, commentary, or news analysis, please email it to the editor: info@paanluelwel.com or paanluel2011@gmail.com. PaanLuel Wël Media (PW) website does reserve the right to edit or reject material before publication. Please include your full name, a short biography, email address, city, and the country you are writing from.